What to do with an N8, now that the Symbian platform won't be supported by Nokia?
Simple, frame it!
It's a simple job, although I'm not recommending to buy the N8 just for this purpose…
If you have already chosen a brighter future phone such as an Android / IPhone (which will enjoy years of innovation from community due to not imposing expensive certificates down developer's throat (hint hint!)), then… you can still use N8 as night clock due to its "Big Clock" screen-saver (screen on all night).
Materials:
Copper cable (at least 1.5mm thick, you probably need 50cm not more.
Needle nose pliers.
Photo frame of 10x15cm (which can sit vertically). Color is up to you.
Nokia N8 (the most expensive item from the list)
Roll of wrapping paper, for decor.
Then it's all matter of twisting the copper, punching the right holes into the cardboard of the photo phrase, then carefully adjust the background color for decor: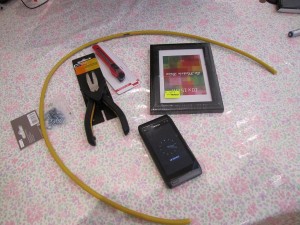 Now, if you have insomnia, you can still see how much time you have until you go to work and do your best for your company, keeping customers and investors happy.