Two weeks ago, after I finished programming (do you ever finish programming ?) I decided to take care of some other chores around the house.
After a while, I noticed that the laptop's fan was still blasting even if the machine wasn't supposed to be under load anymore. A quick check of Task Manager revealed nothing important, so I said, ok, let's close the IDE and other programs, maybe who knows ? While hitting the close button on Eclipse, instantly the laptop turned itself down…
One day later I decided to run memtest86+ on it. A year ago or so I have added another 2Gb memory bar and I was wondering if it could be the culprit. However, surprise surprise, the computer was shutting down during memory test as well. It would not even pass 15% in memtest86+ and bang, it went off all by itself.
I searched on Google why memtest86+ would shut down (or reboot) the PC, nothing concluding came up. I tried to start memtest86+ single core (disabling the other 3), same thing. Shut down. However, while swapping up memory in an effort to pinpoint the faulty module, I almost got burned, I discovered that the memory modules were actually really really hot. The culprit ? The CPU nearby, which was MELTING HOT.
A week after, I found some time to open it up and clean the fan blades as well as the radiators .. I have unraveled a corner of the "house" that was not touched in 4 years!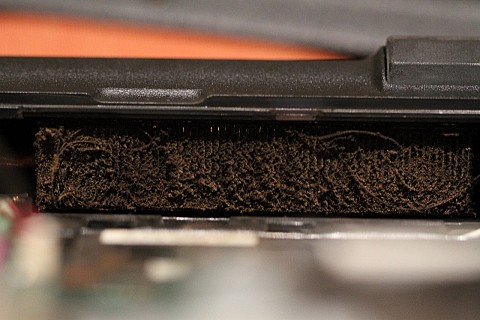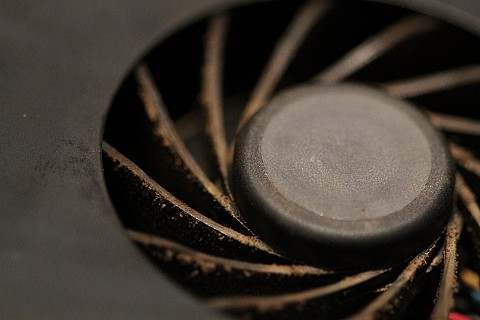 Using a miniUSB vacuum cleaner + a paintbrush, few minutes onwards, here's how everything looked: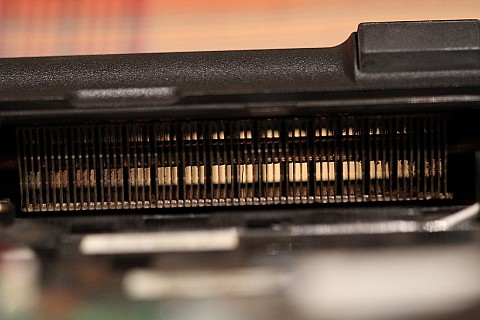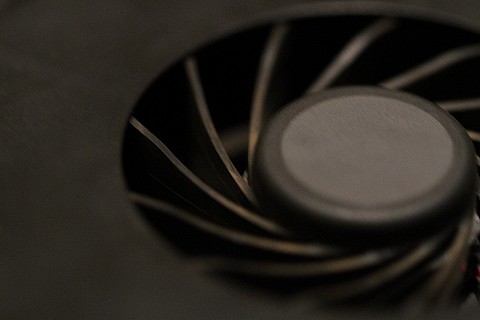 I turned it back on, started Memtest86+ again, and it made it past the 15%!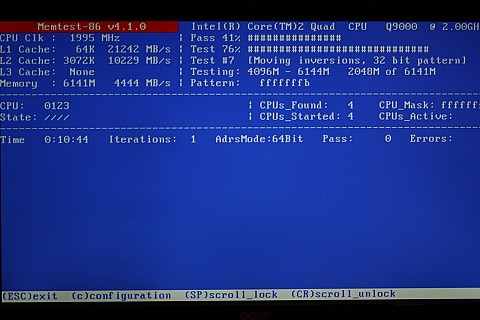 Obligatory RealTemp 3.70 logs below. I have to say that I have ran Hyper Pi to monitor the temperature (before cleaning). RealTemp never showed more than 74C degrees (165 F) before the laptop would shut down.
The idle temperature was 48C (118 F).
Now, after the cleanup, the idle temperature is 38C (100F).
02/23/13 22:56:48 2128.00 61 62 48 48 8.1
02/23/13 22:56:49 2128.00 61 62 48 48 2.4
02/23/13 22:56:50 2154.60 61 62 48 48 2.5
02/23/13 22:56:51 1941.80 61 62 48 48 1.6
02/23/13 22:56:52 2021.60 61 62 48 48 1.5
02/23/13 22:56:53 1915.20 61 62 48 48 1.3
02/23/13 22:56:54 1941.80 61 62 48 48 1.4
.... after cleanup ....
03/01/13 22:28:42 1941.80 42 43 38 38 1.6
03/01/13 22:28:44 1995.00 42 43 39 39 2.1
03/01/13 22:28:44 2048.20 42 43 38 38 3.3
03/01/13 22:28:45 1835.40 42 43 38 38 1.4
03/01/13 22:28:46 1941.80 42 43 38 38 1.4
03/01/13 22:28:47 1862.00 42 43 38 38 1.2
03/01/13 22:28:48 1862.00 42 43 38 38 1.1
03/01/13 22:28:49 1862.00 42 43 38 38 0.9

So if your laptop / PC shuts down while running Memtest86+, also make sure that the CPU gets adequate cooling 🙂